Graphisoft Park, Reception building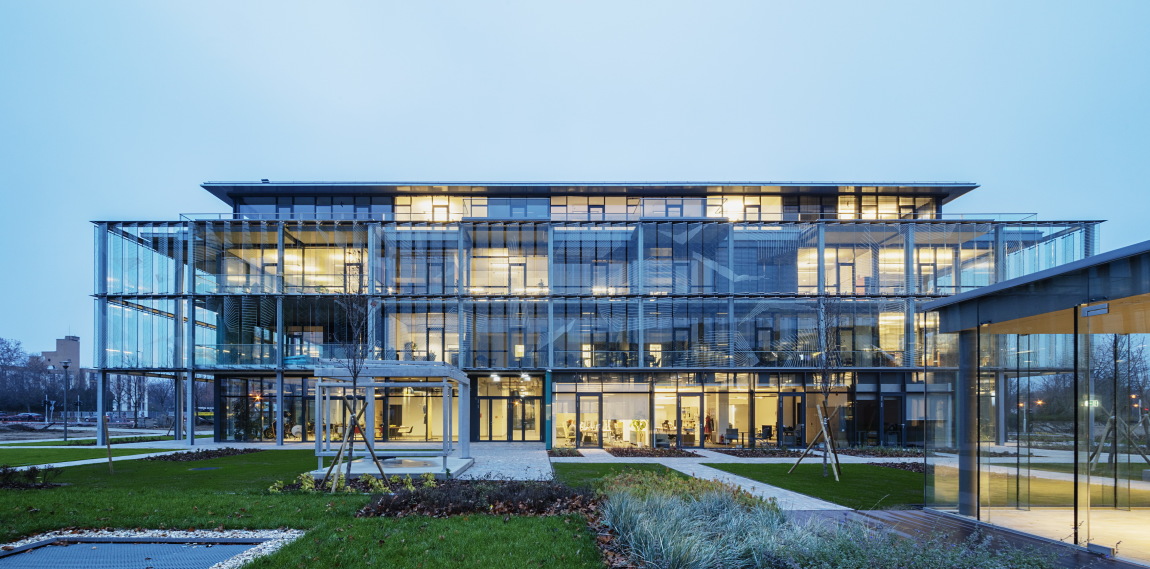 Architect
Sugár Péter, Ilyés-Fekete Zsuzsa, Kun Tamás
Address
1031 Budapest, Záhony utca 7.
Prizes
Budapest Award of Architectural Excellence, Award Recipient, 2018

Due to its entrance position, the Graphisoft Park reception building also plays a symbolic role: it appears as the 'corporate image' of the park. Breaking away from the architecture of brick surfaces and openings typical of the previous park buildings, the three-story office building is basically transparent. In front of the building mass a galvanized steel frame structure runs along the façade, supporting floor-high glass blades. The lamellas feature decoration of unique graphics. Depending on the time of day, the appearance of the outer membrane is constantly changing, reflecting its surroundings.
The park is a small piece of Europe in the mosaic-like urban fabric of Budapest, which is either neglected or often recreated with a poor taste. Here, quality "behavior" is a compulsory element. Here the perfect constellation of the investor, the users, the architects and the location was given. The reception building was born in this context, and it had to choose a different tone compared to the usual "Graphisoft-style" because of the message of the original concept and the state of the building. The most important characteristic and virtue of the house is that this chosen tone does not overweigh the building as a stylistic constraint, but forms it in a natural, obvious way right from the exterior shell to the detailing of the interior spaces. The typical terraced solution, which usually comes from the limitations of the allowed building heights, can be dissolved through the double-layer design that serves both the usage and aesthetic functions well. The structural order and the formation of the building are not separable identities, and this is further strengthened by the determined homogeneity of coloring. This is how the exemplary situation could have arisen that there was no need for any interior intervention. And another nice feature of the building: the irregularities and functional tricks smuggled into the strong and tangible order have created a viable and receptive environment. While the corporate label is less elegant, the quality of the result, as well as the architect's attitude, habit and method are all exemplary: it is a real pleasure for the city, and congratulations to the designer.
Architect collaborators
Hornyák Lívia, Turi Lilla
Structural engineering
V. Nagy Zoltán, Lapidárium Mérnöki Kft.
Building services engineering
Pásztor Tibor, Enco Mérnöki Iroda Kft.
Electrical engineering
Méhész Márton, VA-IQ Elektromos Tervező és Mérnökszolgáltató Kft.
Building constructions
Dudinszky Orsolya, Farsang és Dudinszky Kft.
Fire protection
Mészáros János, Mébart Bt.
Landscape design
Szloszjár György, Garten Stúdió Kft.
Acoustics
Józsa Gusztáv, Józsa és Társai 2000 Akusztikai-Ökológiai és Szolgáltató Kft.
Kitchen technology
Straub Ágnes, Szigmavill Bt.
Accessibility design
Jávor Éva, Mahadi Kft.
Glas design
Baróthy Anna, Herr Ágnes, Krauth Vera, S39 Hybrid Design Kft.