Klapka Center Service House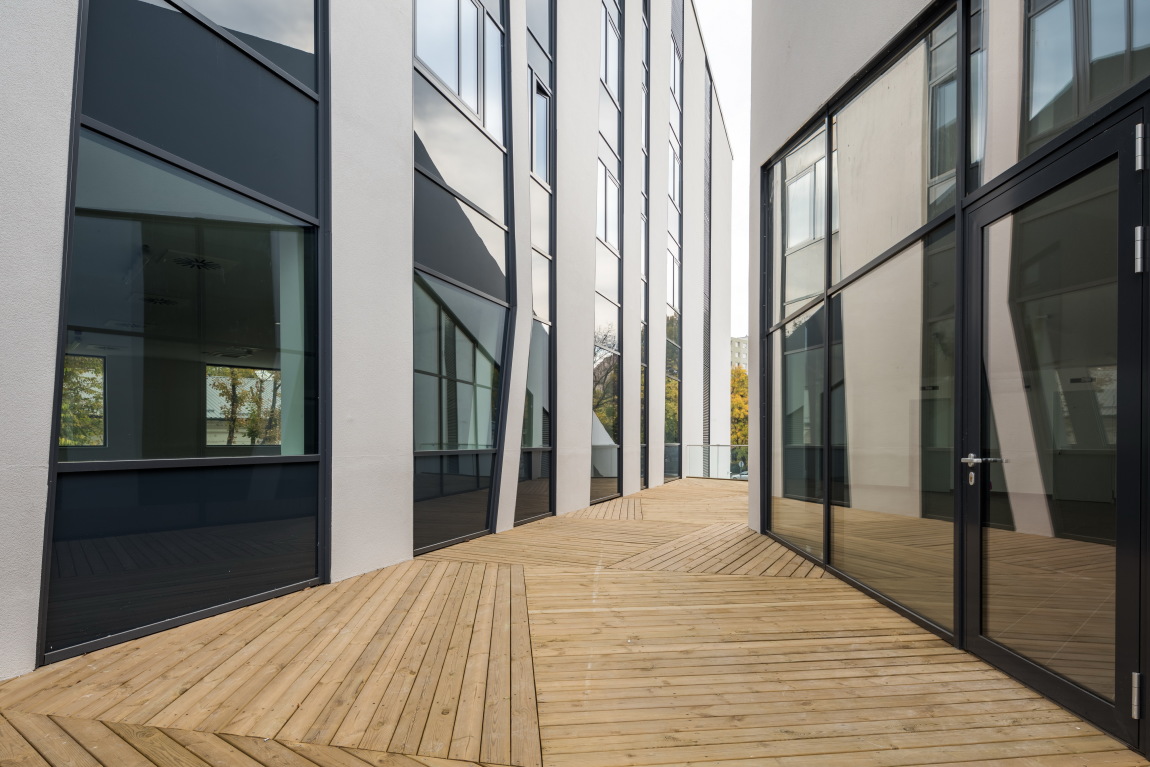 Address
1134 Budapest, Klapka utca 17.
Prizes
Budapest Award of Architectural Excellence, Commendation, 2019

The Mayor's Office of XIII District, Budapest has set the goal of revitalizing the area on the border of a housing estate with thousands of people and the small-town suburban settlement. The construction, based on the 1st prize winning design competition plan, which was also awarded with the Media's Architectural Prize 2012, is a wegde-shaped building with a basement, ground floor and four (at some parts five) storeys. It accommodates parking spaces, retail and service units, district medical offices, and 33 apartments. The space composition is complete with a grocery store and other small shops placed inside the green 'hill'.
This part of the district has many faces, presenting all types of buildings: LPS ad brick houses, condominiums, public buildings and industrial buildings. The new service provider ensemble is located at the end of the green belt running through this urban structure, where the green zone widens to a plaza. The location is a difficult terrain, and so it is a tempting architectural task. The architect had to 'decipher' the intrinsic nature of spatial and planar attributes, and in response, to raise a sign as a memorable landmark within this versatility. In the area, widening in a funnel-like way, there is no real point of reference, urban facades give no guidance and building heights range from one-story houses to ten-story buildings. However, one thing is clear: the pedestrian 'trajectories'. The spatial arrangement organizes the latter in a perfect way: in the widened area the architect divided the pedestrian traffic into three branches, and designated one of them as an alley way leading the Service House's traffic through the area, where an urban density of shopping and administrative tasks can be born. This outer, small street at one point becomes a two-story space.A really striking feature of the mass composition of this well-functioning spatial organization is that it makes the surroundings of the city part transparent: one of the most valuable parts of the complex is the "aerial work" of the masses. The mass connection of the iconic wedge and the green prism shows the surroundings from every angle. This action of the architect provides a real solution to the siting problem, and fortunately all other architectural and co-designer decisions are exemplary too. Angyalföld has become richer with an elegant ensemble: the Klapka Center is now an unmistakable landmark for everyone.
Lead architect in charge
Marosi Miklós
Designers
Sebő István, Rabie Anisz, Pottyondy Flóra
Co-designers
Hadnagy Csaba, Váczi Péter, Szakál Szilárd, Máramarosi András, Ritzl András, Veresné Rauscher Judit
Collaborators
Dobszay Gergely, Kerecsényi Zsuzsa, Láng Judit, Csordás Szilveszter, Bíró Attila