Loffice Budapest co-working office building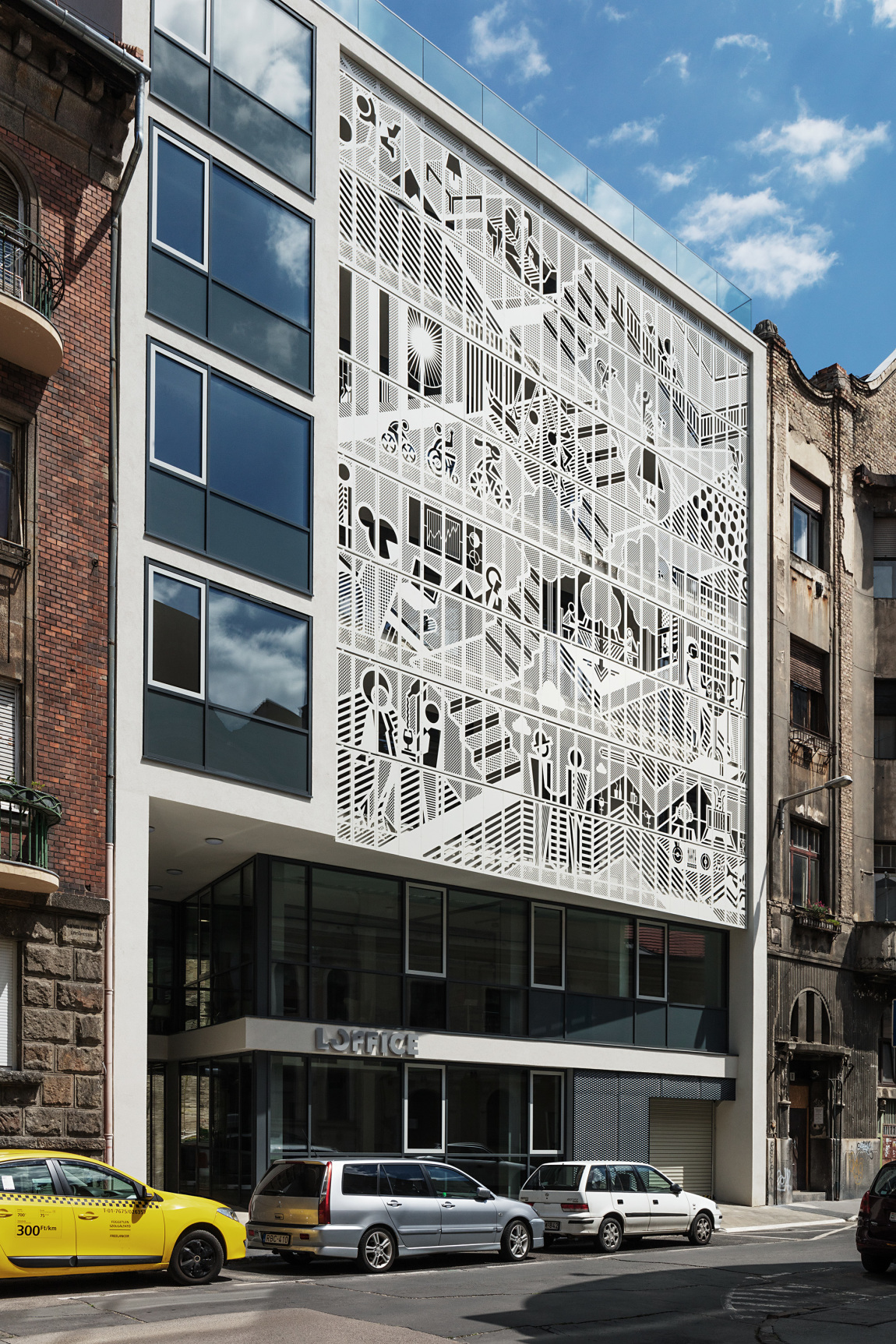 Architect
Paládi-Kovács Ádám
Company
Paládi Építész és Mérnök Kft.
Address
1085 Budapest, Salétrom utca 4.
Prizes
Budapest Award of Architectural Excellence, special mention, 2021

The Loffice building is situated along Salétrom utca in the 8th district, standing squarely on the axis with Kis Salétrom utca, just a few steps away from Rákóczi tér. Contained within the continuous three-story envelope of the street front, the building distinguishes itself with its contemporary white façade.
The setback movement of the ground-floor façade, combined with prominent glazing, creates a visual and physical connection between the inner courtyard and the public street front, allowing public space to filter in and occupy the heart of the site. The mixed program is organized vertically within the building, with large open floor places on the lower floors for public functions or co-working offices, and co-living units designed in the middle floors, which may also be used as workspaces depending on the tenant, topped by an open penthouse level, setback from the street. All levels have large balconies and loggia spaces looking out to the street or the courtyard. The building's main feature is the playful accordion metal façade on the street, depicting ludic illustrations of the various activities housed within, meanwhile giving the street-facing units a chance to open or to provide some intimacy and shading. The project is representative of the innovative transformation of Budapest's 8th district, and the evolution of the city's housing and working markets in line with contemporary European trends.
architectural assistants
Hegedüs Dávid, Erdélyi Anett, Szekeres Attila
Graphics and signal system
Willem Van de Ven, Esterházy Marcell
Interior designer
Paládi-Kovács Ádám
Garden and landscape design
Szathmáry Melinda
Interior design assistants
Gábor Szabó, Ulrike Rein
Structural engineering
Kovácsházy Péter
Building services engineering
Szalóky László, Goda Róbert, Benkő Zoltán
Electrical engineering
Messerer László
Inventors and owners
Klementz Kata, Ulrike Rein, Esterházy Anna, Oppenheim Klára
General contractor
Szkladányi György, Somosi Viktor