Havanna Weekly Fair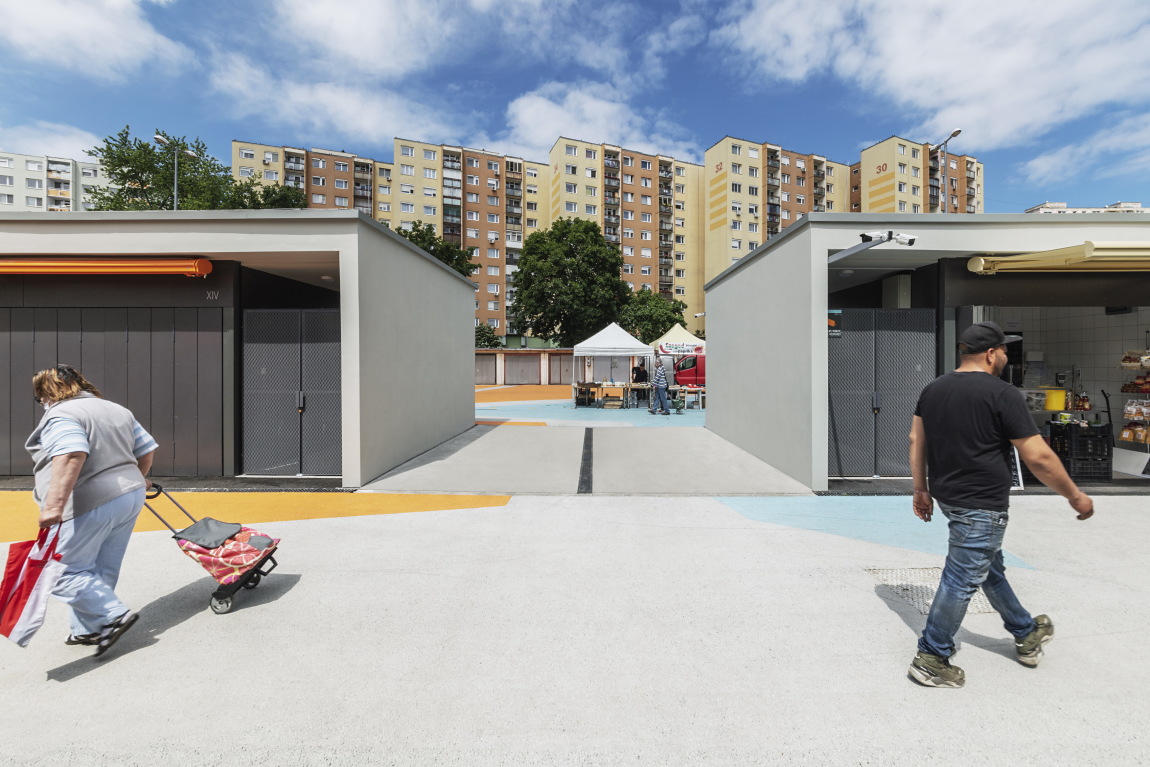 Architect
Keller Ferenc, Láris Barnabás
Company
Keller Műterem Kft., Modulart Stúdió Kft.
Address
1181 Budapest, Baross utca, Berta Lajos utca
Prizes
Budapest Award of Architectural Excellence, Commendation, 2020

The market building's restrained, sensitive architectural design, featuring a deep understanding of the task, shows well how to create significant urban and social added value with a seemingly small-scale intervention.
The Weekly Fair is one of the most popular public plazas of the strictly formed basic structure of the Havanna housing estate designed by Csaba Virág. Since 1989, the car park on the edge of the housing estate has been a market on Saturdays, where vendors initially sold their products from car trunks and later from caravans. The district municipality had won financial support for the institutionalization of the market within the TÉR_KÖZ tender of the capital, for the realization of which the architect was sought via open design competition. The winning architects approached the task with unusual sensitivity: at the foot of the PLS houses, they designed a modestly shaped, long building rhyming with the adjacent garage. It includes a toilet, a market surveillance office, and an exhibition space in addition to the shops. The simple, monochrome building mass consists of a row of fiber cement gates to the stores. The only pronounced contemporary gesture was to fold up the end of the concrete slab providing the roof, which also highlights the entrance situation. The asphalt surface, which is empty on workdays, was made exciting with the abstract reproduction of the Pestszentlőrinc-born artist Béla Kondor's 1962 work "Still Life". This way the asphalt surface has become lively even when empty, reminiscent of Roberto Burle Marx's public plaza paintings. When seen from above, from the houses, it composes a work of art together with the sunshades of the market.
Lead architects in charge
Nagy Csaba, Pólus Károly
Architectural Co-designer
Bors Eszter
Architect collaborators
Böröcz Péter
Garden and landscape design
Kontra Dániel
Structural engineering
Honti Gábor
Building services engineering
Lobenvein Zoltán
Electrical engineering
Nagypál Géza
Design of road constructions
Ittzés Miklós
Fire protection
Szabó Norbert