Medical station in Révész utca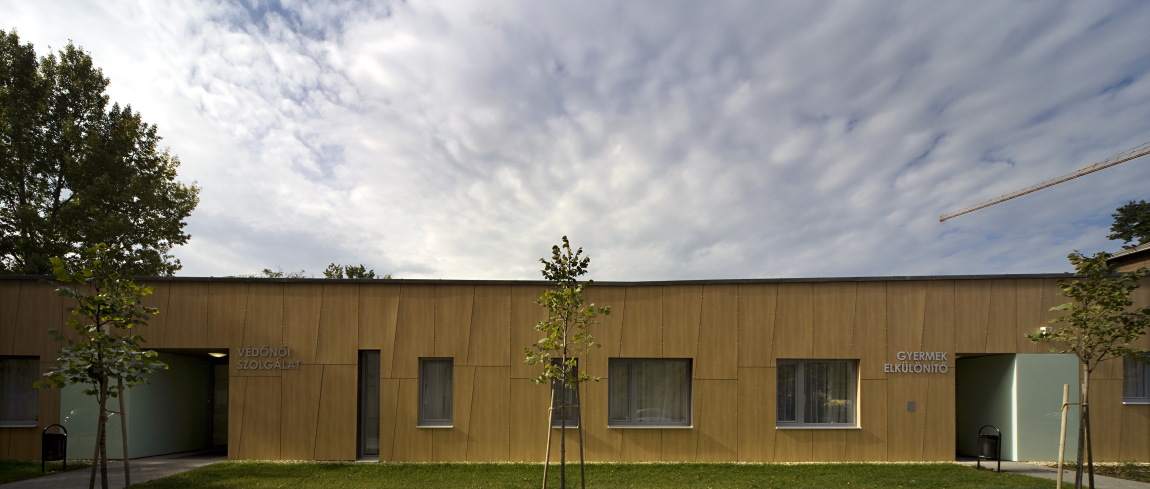 Architect
Nagy Csaba, Niszler Katalin, Benedek Botond
Address
1138 Budapest, Révész utca 10–12.
Prizes
Budapest Award of Architectural Excellence, award certificate, 2009

The medical station is located in the southern part of Vizafogó housing estate, at the corner of Révész and Pannónia streets, surrounded by high LPS buildings. The municipality has expanded the existing medical services with additional medical emergency facilities. As part of the complete redevelopment, a commendably clear new floor plan was created: the top-lit waiting rooms were placed in the middle, while the other main and secondary functions provided with natural light and ventilation were placed on the sides
The layout is good, the functional connections and the accessibility are solved. The protruding courtyards appear to be narrow, but since obstruction of vision is mandatory for medical rooms anyway, the proximity of the wings to each other is not disturbing. At the roof level, the architects transformed the E-shaped floor plan into a winding meander line. The surrounding buildings offer a view of the green roof, behaving as the fifth façade, so its interesting design improves the visual comfort of the entire housing estate. The façade of the building has a contemporary pattern. Despite the implementation's uncertainties, the playfulness of the building, its furniture-like warmth, as well as treating the floor plan, the façade and the finishes in one united system are commendable. As an exceptionally good initiative, the applied artist Diána Nagy was invited to decorate the children's waiting room, who solved the task in excellent quality, with a high artistic demand similar to the building. Overall, this medical station is a very high-toned architectural work designed with great care and talent, creating value for both the narrower and wider community.